Get a glimpse of your boundless future.
Be a Scottie for a day and discover what sets our college experience apart. Experience our inclusive community, walk through our beautiful campus (in-person or virtually), chat with current students and learn more about SUMMIT, our signature approach to liberal arts learning.
No matter how you are able to visit us to learn more, you will receive an enthusiastic welcome and a genuine feel for what life is like at Agnes Scott and as a Scottie!
Virtual Campus Visit Experience
Experience firsthand the opportunities that Agnes Scott offers. The one-hour conversation includes an information session with an admission counselor, time to chat with a current Agnes Scott student about their Agnes Scott journey, and a chance to get all your questions answered about the admission and financial aid process.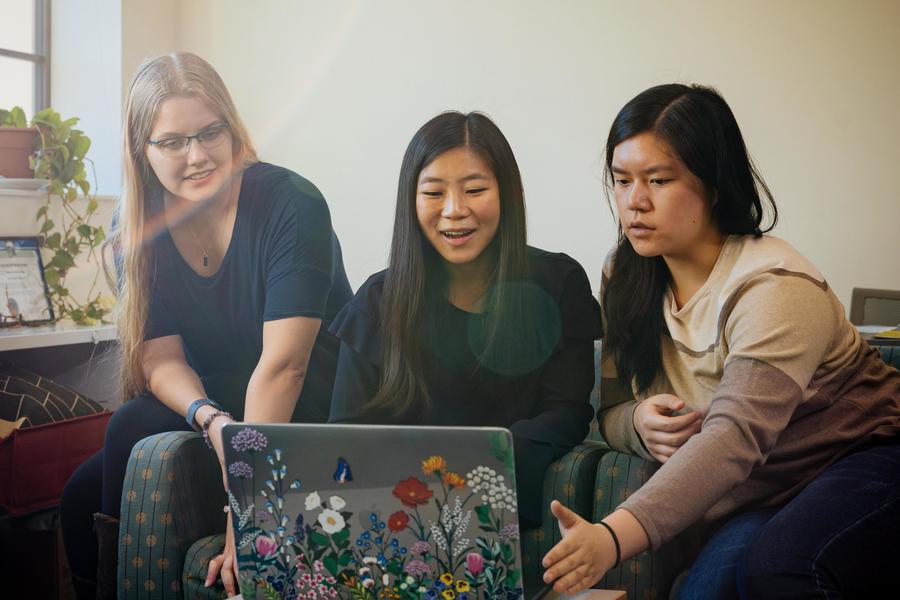 Workshop Wednesdays
Are you ready for the college application process? Do you have questions about how to prepare yourself, your application and your family for next steps? Join us for one of our Workshop Wednesdays, virtual events where you will have the chance to walk through different pieces of the admission, financial aid and overall college search process with admission counselors and students who have been through the process before.
Great Scott Open House
In 2020, we will be hosting three virtual sessions of our fall open house event that is perfect for high school students and transfer students who want an information-packed event all about Agnes Scott. Meet key members of the Agnes Scott community, learn more about SUMMIT, our innovative core experience, and hear from students and faculty about their experiences.
NEW and Only Offered in 2020 - The Great Scott Grant! This year only, we will be offering the Great Scott Grant, a $1,000 scholarship renewable for up to four academic years at Agnes Scott. This grant is only available to high school seniors and transfers applying for academic year 2021-2022.
learn more Register for Great Scott
Virtual Tour
Our interactive virtual campus tour gives you a 360°-degree view of our main buildings, ranging from academic halls to the student center to the heart of campus, the Quad. Take a sneak peek at the dorms, hear the bustle of the dining hall and play video interviews from current students and faculty—all from the comfort of home.
Informational Interviews
Our admission counselors are here to answer all of your questions- so take advantage! Sign up for a one-on-one informal conversation to get to know the admission counselor who will work with you throughout the process and to ask any questions you have.
Scottie Chats
The best way to get to know our campus community is to hear from one of our students. Want to chat with a current Scottie?
Schedule a Virtual Conversation
Admission Experience Fellow Chats
We miss welcoming you to campus and interacting with you in our Elizabeth Kiss Welcome Center! Come join our Admission Fellow, Faith Rashidi-Yazd, for a Zoom chat to learn more about being a Scottie. As both a recent alumna of the Class of 2020 and now part of the Admission team, Faith will be able to share her experience as a student as well as first-hand knowledge of the admission process.